ArticleButtons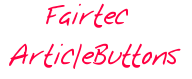 ArticleButtons is a plugin for the Joomla Content Management System, that allows easy integration of SocialNetwork Buttons in Joomla articles. A focus was put to low ressources usage and fast page-load times. All requests are executed asynchronous, java scripts are just loaded once.
The plugin can be downloaded here.
Installationsanleitung
In the Joomla-Administration click "Extensions -> Install/Uninstall".
In the "Upload Package File"-Dialog Browse to the installation-zip-file and press the "Upload File & Install" Button.
After succesful uploading you should see a message "install Plugin Success".
Now click "Extensions -> Plugin manager". There find the ArticleButtons Plugin and click on the name. This gets you to the Plugin-Parameters.
Enable the plugin (by setting the radiogroup on the left side to "yes") and choose the parameters. All parameters have a tooltip with further explanation.
Don't forget to choose the categories you want to add the buttons to be excluded. They are multiselectable.
You are done, have fun!